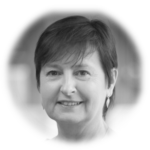 Patricia Hall
PhD Scholar
Stroke Research Project 3 iPASTAR
Patricia is a cardiovascular nurse specialist who has worked in acute and chronic patient care; patient and family support and education; disease prevention and health promotion. She holds a HDip in cardiovascular nursing from University College Dublin, as well as MSc in Primary Health Care from The Royal College of Surgeons in Ireland. Her research interests are in stroke and heart disease secondary prevention, having worked on a number of clinical trials and published in both of these areas. 
Project 3 – Staying well and reducing risk after stroke  
Patricia will further these clinical interests through her iPASTAR research into staying well and reducing risk after stroke.